General Questions
I am having technical difficulties. You can contact our technical support team by completing this form.
First, you must create an account. You can use the "Get Started" button on the home page, or click in the top right corner. You will be asked to enter your name, email, and password to set up an account. 

After your account is set up, search the course catalog in "All Courses", select the course you would like to register for and click "Add to Cart".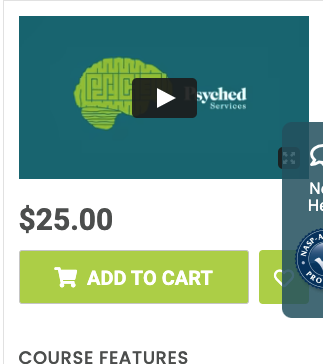 Complete the purchase by accepting the terms and conditions, entering the required billing info, and clicking the "Place Order" button. 
Absolutely, all questions can be sent through our contact us form. Include the course name and who you are trying to reach.
The material will be available in your account portal for 1 year after purchase, unless otherwise specified in a promotional offer. 
Contact us by completing this form. to discuss your needs and our team will work with you to provide accessibility and support.
Continuing Education Credit